Please call for products updates
VU + Solo HD Digital Satellite Box
Wide Frontier Satellite Dish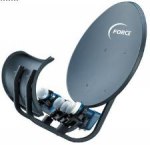 Toroidal 55 & 90 are designed to reflect signals twice through the main reflector and a sub reflector, forming a focal line created by focal points along the bottom of the main reflector, making Toroidal 55 & 90 function as a multi-beam antenna that receives broadcasts & communication satellites at the same time.
Capture up to 16 different satellites, Superior to any rotary system, No noisy or no tear
True Multi Satellite Dish. Recieve signals from 1 degrees west to 28 degrees East.